Michael Leon "Be True" Interview
For additional coverage of
Michael Leon
's interview, visit
Slam X Hype
.
Thanks to Jordan for the link
NYTimes & Geoff McFetridge Drawing From New Sources
Ways to save and generate energy from The New York Times Magazine's Year in Ideas.
Drawn by: Geoff McFetridge
Animation by:
Geoff McFetridge
Johannes Gamble
Jason Keane
Script by:
Amy O'Leary
Voiceover by:
Joel Lovell
Monster Dice & Poster
Geoff McFetridge & Nieves & e15
For photoblog on the opening, click image below



For complete information, click images below


Cyclocross News Dec 2007
Bakersfield Cross: SCNCA Championships and SCPS #8
Bakersfield, California
December 1 – 2, 2007
Geoff McFetridge takes 1st place in Mens Race 4 wearing Bib 438
December 2, 2007 SCPS #8

Photo: Brandon Sincock
Three Stripe Event Photos From Shanghai
Photos courtesy of FLY and Original Heads of the event held in Shanghai, China for the adidas Three Stripe, Skate Hype. It looked like a solid event and one that I wish I was in attendance. Skateboarding is brewing strong in Shanghai!
For complete photoblog go to skatehere.com.

Setup built and skated in just weeks.


Dave Bachinsky BS Noseblunt


Mat Morgan Pole Jam


Lem Villemin Nollie BS Nosegrind

For complete photoblog of the Three Stripes Skate Hype event, go to skatehere.com.
"Hommies" A Group Show Curated By Tobin Yelland
Group Show Curated by Tobin Yelland
Exhibition: December 15, 2007 through January 12, 2008
Opening Reception: Saturday, December 15th, 7 to 10 pm at Fuse Gallery, New York
Hommies is a group photography show that features photographers who rely on their circle of friends for their inspiration. A celebration of the bond between photographer and subject makes for an intimate image that is honest and unpretentious.
Featuring works by Per Billgren, Angela Boatwright, Cheryl Dunn, Leigh Le Dare, Dennis McGrath, Jon McGrath, Ari Marcopoulos, Carissa Pelleteri, Ray Potes, Mickey Reyes, Vanessa Salle, Ivory Serra, Julien Stranger, Gary Van De Griek, and Tobin Yelland
Since the age of fifteen, Tobin Yelland has been steadily documenting the shadowy existence of youth and its vestiges in day-to-day life. First published by Thrasher Magazine in 1985. Tobin's work has expanded beyond the world of San Francisco skaters to become a collection of images giving voice to an entire generation spanning locations and social identities.
"Hommies," curated by Tobin Yelland, runs December 15, 2007 through January 12, 2008 at Fuse Gallery, 93 2nd Ave (between 5th & 6th Sts, 2nd Ave stop on the F), NYC, NY. The opening reception, on Saturday, December 15th, from 7 to 10 pm, is free and open to the public. For more information, contact Fuse Gallery at 212.777.7988 or fusegall@fusegallerynyc.com.
- Thanks Tobin!
Shanghai, China "Three Stripe Skate Hype"
Mat from FLY and Original Heads in Shanghai, China sent this our way. A proper setup and coordination from the FLY folks along with adidas for this event and a precursor to what's sure to be many more in this part of the world. Jeff and Mat of FLY are creating a positive and lasting introduction for the skateboarding community throughout China. They've built a street course along with an event taking place today, December 14th in Shanghai.
Hong Kong & The Adidas Team
My friend Henry Lerdal from San Francisco moved to Hong Kong a few months ago and today, we met at Times Square in Hong Kong's Causeway Bay. Henry took me to Morrison Hill park and randomly, I ran into Bryce Kanights and the adidas team. Small world.
Monster ollie by Dennis Busenitz
Hong Kong – Morrison Hill Park – December 4, 2007
Shanghai, China
I've always wanted to go to Shanghai, China. So I packed my luggage and brought my skatebag as a carry-on from San Francisco to Hong Kong on a layover. From Hong Kong, en-route to Shanghai, the overzealous security at the Hong Kong International Airport took my boards and confiscated them until my scheduled return back from Shanghai. It had something to do with having a blunt object as a carry-on, even with the skatebag I used. I brought my board just to ride the largest skatepark in the world in Shanghai.
Tip: pack your boards with your luggage and check it in even if the airline says it shouldn't be a problem.
Regardless, energy was high and things were optimistic.
Got into Shanghai, China with confidence since Matt Irving introduced me to the fine folks at FLY Streetwear and Skateshop prior to my arrival. Both Jeff (owner) and Mat were very welcoming and Mat even let me use his personal board so that I could make some turns at the skatepark.
Shanghai is amazing… Not only the food and people but the melding of old and new in every facet from architecture to fashion to western fast food joints next to some of the best local street food I've ever had. Here are some photos below. Thanks again to Mat, Jeff, and our Aunt June for their hospitality. We'll be back for sure.
Mat Morgan in front of Fly in Shanghai, China

This entire rack is from Gift Skateboards out of the Fly camp. Solid wood. I rode Mat's board (bottom MEAT deck). He also did the graphic.

Outside Fly

Across the street from our hotel. Every street was bustling

Driving (and being a passenger) here is nuts. Really… but I'd like to ride a bicycle or scooter the next time.

Breakfast. Street food is everywhere and very inexpensive

Early morning workout at the park

Selling kicks straight from the factory and off the bike

Wu Jiang Jie Street Food Market

Had to get a bowl of spicy noodles myself after seeing all the people eating it on the street

Ate this too. Boiled tempura and other fine foods

Probably the fourth meal at the Wu Jiang Jie Street Food Market. This time, some fried Sen Jian Bao. Word.

Sweet potatoes on the street… smells like heaven

Pigface… and other flayed animals I would eat.

Chestnuts roasting on a Shanghai street

At the largest skatepark in the world, Shanghai, China

Delphi sticker found

Solitary Arts sticker

2 feet of vert on this monster of a half

That's me standing at the top of the roll-in.

Baby backside carve in the peanut bowl

Only a few skaters on this perfect day

Tommy was one of them. Everyone was super nice and Tommy spoke english. Skating speaks louder than words and the kids were ripping.

Toykyo x Parra
Toykyo x Parra did an amazing hand-screened sticker-box consisting of 35 stickers and 1 screened print. Edition of 500, signed and numbered.
Cyclocross News Nov 2007
Cyclocross races are held typically in the autumn and winter months and consist of short, 2.5–3.5 km or 1.5–2 mile courses. The course can range from pavement, wooded trails, grass, steep hills and obstacles requiring the rider to quickly dismount, carry the bike and navigate obstructions and remount in one graceful motion. Races are generally between 30 minutes and an hour long, with the distance varying depending on the ground conditions. The sport is strongest in the traditional road cycling countries such as Belgium (and Flanders in particular), The Netherlands and the Czech Republic.
Geoff just completed 2 cyclocross races within the past 2 week. Placing 6th out of 36 starters in division 4's in Los Angeles then leading the race for 5 laps this past weekend in the Chicago and ending strong with 2nd place.
Next race is December 2.
Yeah, Geoff!
Colette Introduces The Solitary Arts @ Paper 24HR

FRIDAY, NOV. 9 – SATURDAY, NOV. 10
6 p.m.-6 p.m.: 24-hour Shopping Marathon!
Event: IS IT ART OR IS IT COMMERCE? PAPER's 24-hour Department Store
Open to the Public
Location: PAPER's Cultural Storefront – 233 S. La Brea @ 3rd St., Hollywood
PAPER opened a high concept "24 Hour department store," an indoor market with 25 participating brands, artists and shops that PAPER adores. Unique/limited brands will be on display such as Colette (Introducing The Solitary Arts), Opening Ceremony, Undefeated, M.A.C Cosmetics, The Smell, Levi's® Damien Hirst, Screaming Mimi's, Ooga Booga, Mollusk, Citizen-Citizen, PAPER art store, Family, RVCA, Kime Buzzelli's Showpony, Creative Growth, Jack Spade, Lost & Found, William Good, Heartschallenger, Cobrasnake, Supreme, A+R, Ingo Maurer, Three Asfour, FUCT, Rodarte, Jeremy Scott, Modern Appealing Clothing, Hit + Run and many more. This will be the best store on earth and will only be open for 24 hours then it will disappear. Andrew Andrew will be the 24-hour hosts pod casting, DJing and simply performing acts every hour on the hour.
Presented by Project title sponsors: Levi's® and M.A.C Cosmetics.
We'd like to thank Sarah and Colette for welcoming The Solitary Arts and showcasing our products at her booth. Geoff did an awesome single-marker drawing for the Colette booth, situated directly in-front, as you enter the department store.
Cinematography by Tobin Yelland
Tobin Yelland created this film for DC Shoes & SSUR .
Also, view the little trailer for the Spring 2008 release of the Beautiful Losers film. Tobin Yelland is the cinematographer.
Rip in Japan...with the Traveler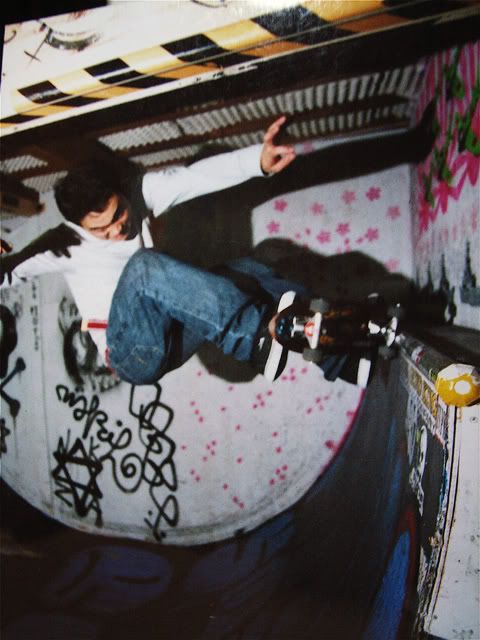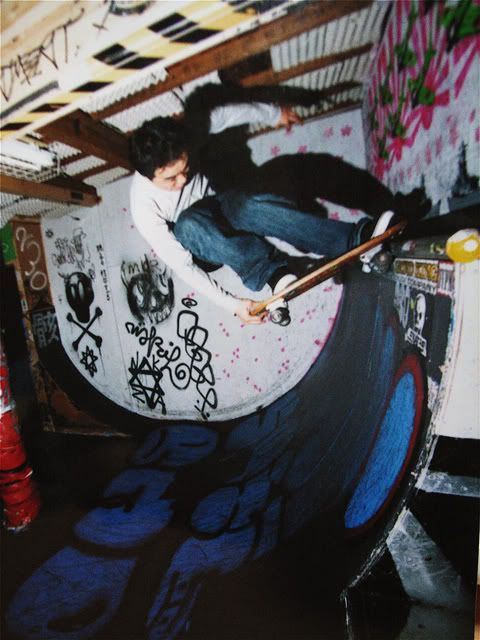 Incredible Being of Lightness: NPR / KCRW & the California Design Biennial
Hosted by NPR / KCRW's Frances Anderton and her show DNA (Design and Architecture), Michael Worthing, Co-Director of Design at CalArts, comments on the California Design Biennial.
Listen in on their conversation.
...Bright Colors, Handcrafted, Geoff McFetridge and the Solitary Arts.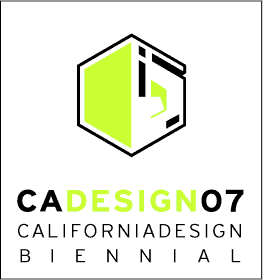 San Diego, California; Visiting Gary Benzel & Igloo Store
Gary Benzel and Arik hosted us at the Igloo Store on September 8th down in San Diego.
Thank you guys!

Igloo Store, Little Italy, San Diego, CA
Click the photo above for the map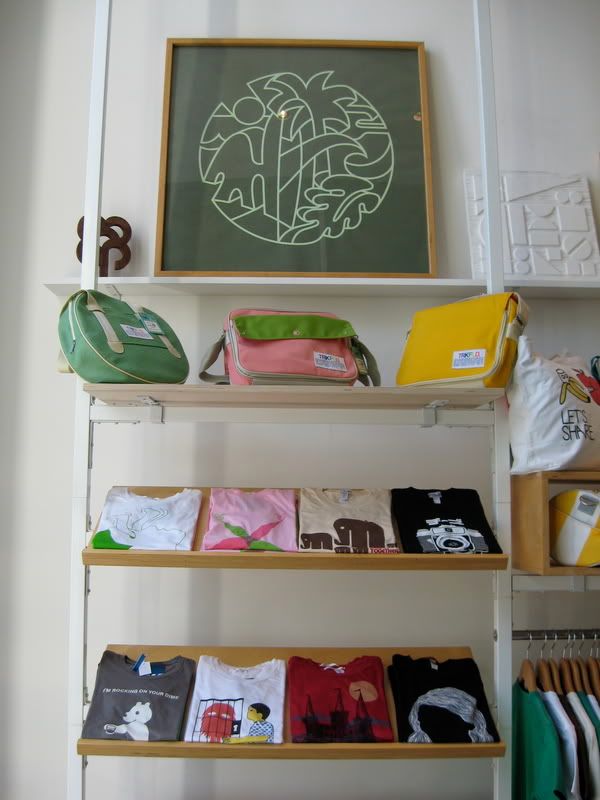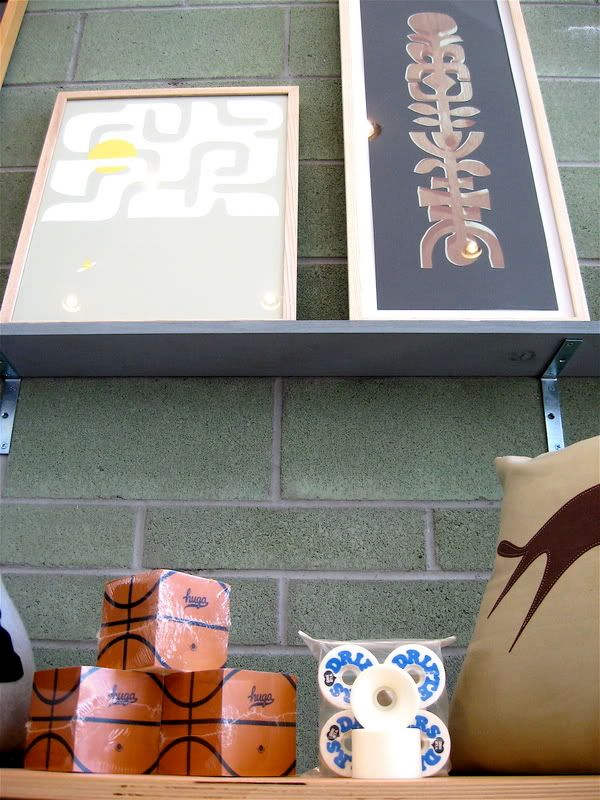 Igloo is one of the stores that carry the Solitary Arts line. Drifters wheels…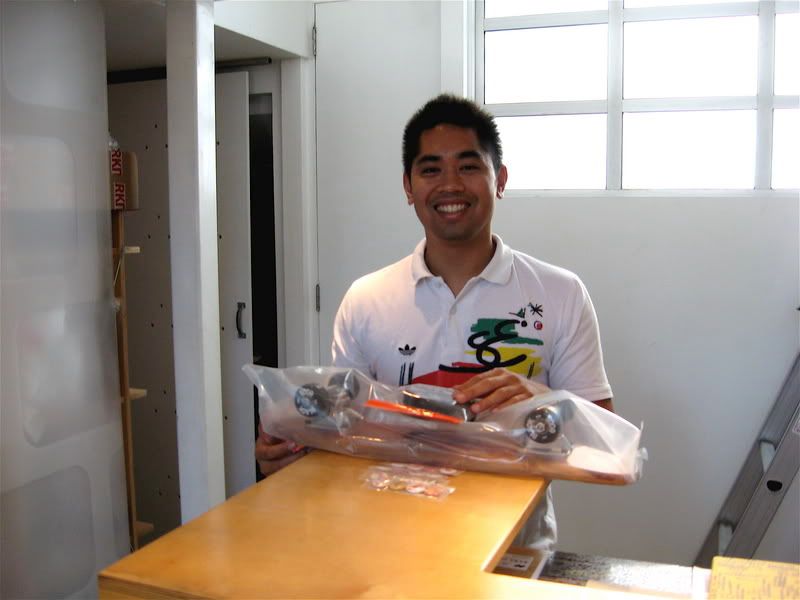 Arik hosting us at the Igloo Store
Solitary Arts pins and stickers next to Michael Leons awesome playing cards
Mollusk Surf Shop opens in Venice Beach, California
Mollusk Surf Shop opened their third location on Saturday, September 1 at 1600 Pacific Avenue in Venice Beach, California to a warm (freakin' hot) reception from curious locals, traveling tourists, friends of friends, and close compadres.
The best way to experience Mollusk Surf Shop is to visit one of their shops personally. Simply Amazing. They have their first in San Francisco, second in Brooklyn NY, and now, Venice Beach.
John and Brett gave us the opportunity to build an in-store display for the Solitary Arts with the very first, "mini skate shop", inside their store. All of the Solitary Arts shirts are for sale along with the last two of the original Big Red complete skateboards.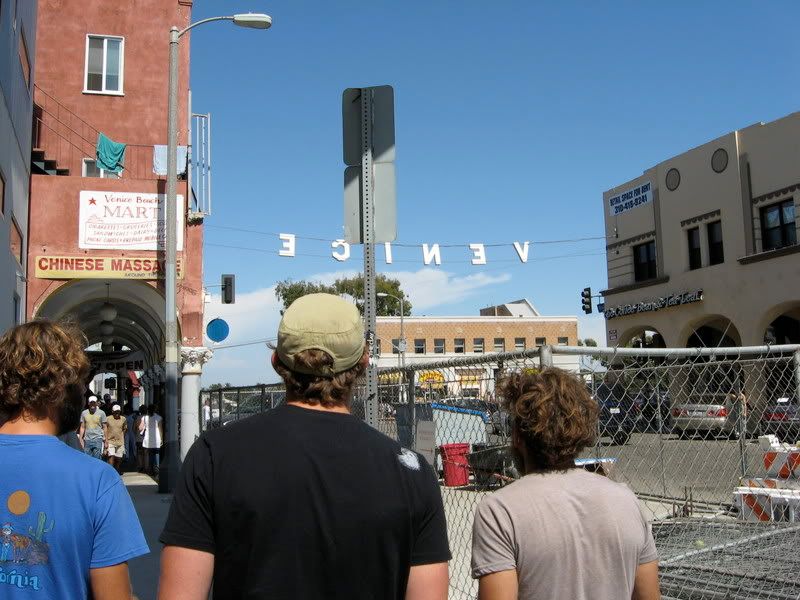 Kyle, Danny & Keith, Venice Beach, California

Jeff Canham is an amazing artist/painter and he made this
corner of Venice Beach a breathing landmark once again.
Click on him waving above to see more of his work

Serena taking photos of Jeff Canham

Mollusk Surf Shop: 1600 Pacific Avenue
Venice Beach, California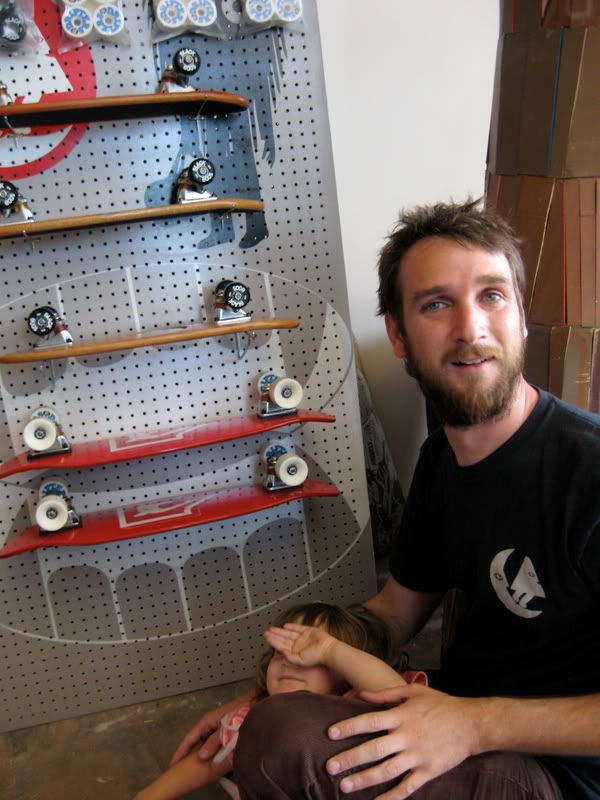 John McCambridge & his daughter.
Mahalo John for all your support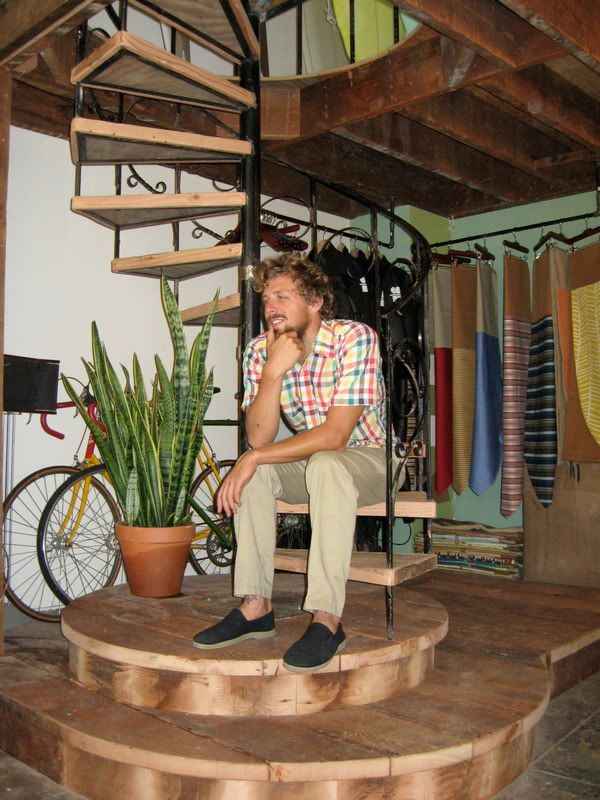 Brett sitting under the spiral staircase

Spiral-up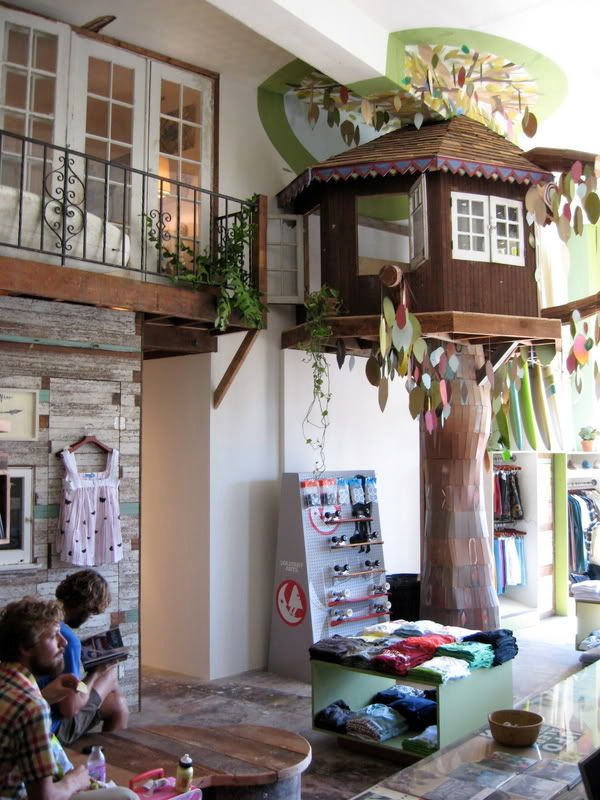 Indoor Treehouse by Jay Nelson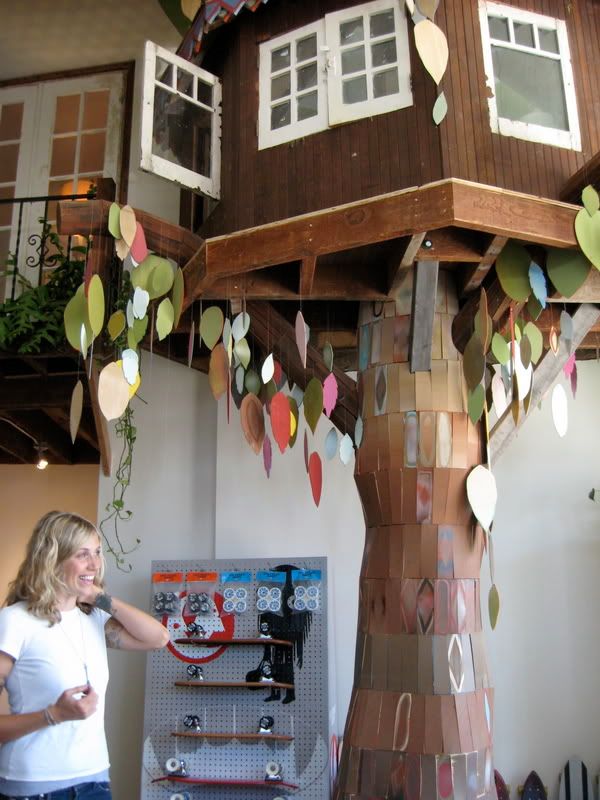 Ivy must have folded a thousand shirts for the opening
Always in good spirits

Jeff Canham was the lucky person who got to sleep in the
treehouse the night before the opening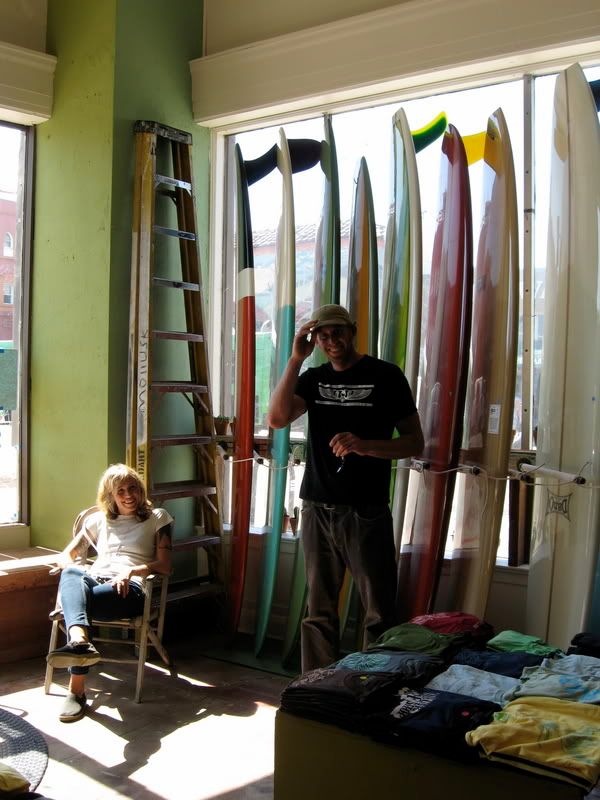 Ivy and Danny Hess. Click on Danny in the photo
above to see the amazing boards that he shapes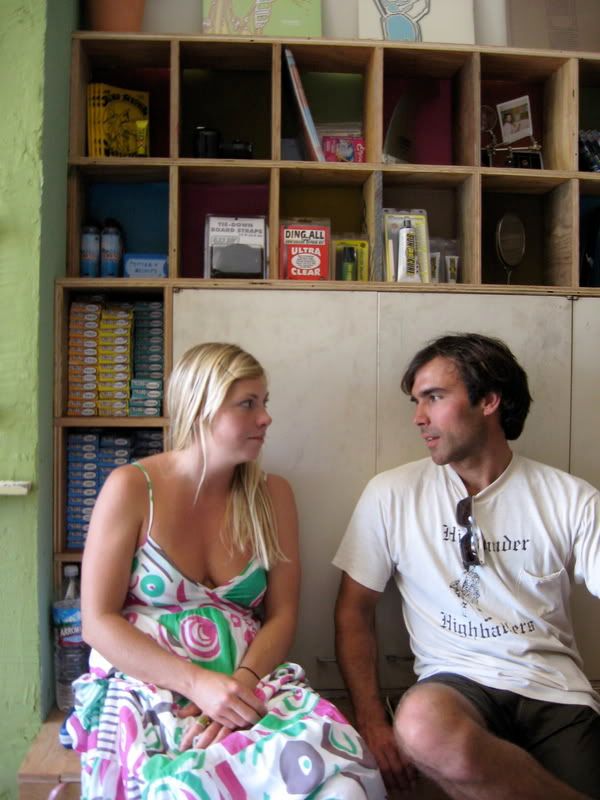 Serena & Mason sitting at the cashwrap bench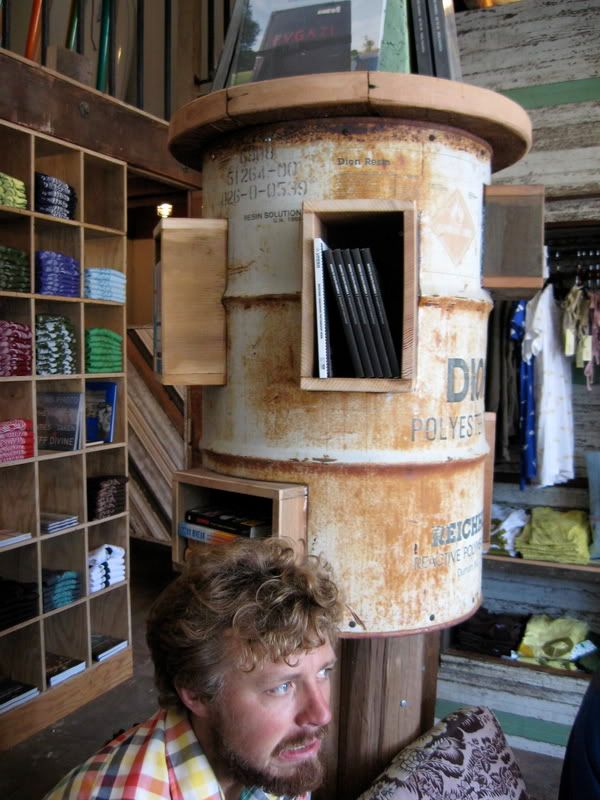 Brett sitting next to the last known barrel used at
Clark Foam. It's converted into a useful
and beautiful display for the books section

Johnny sitting at the cashwrap with a nice Nat Russell
piece behind him. Click the photo to read Nat Russells blog

Kyle Field reading on the recycled drum-table.
Click on Kyle reading above to view his artwork.
Little Wings!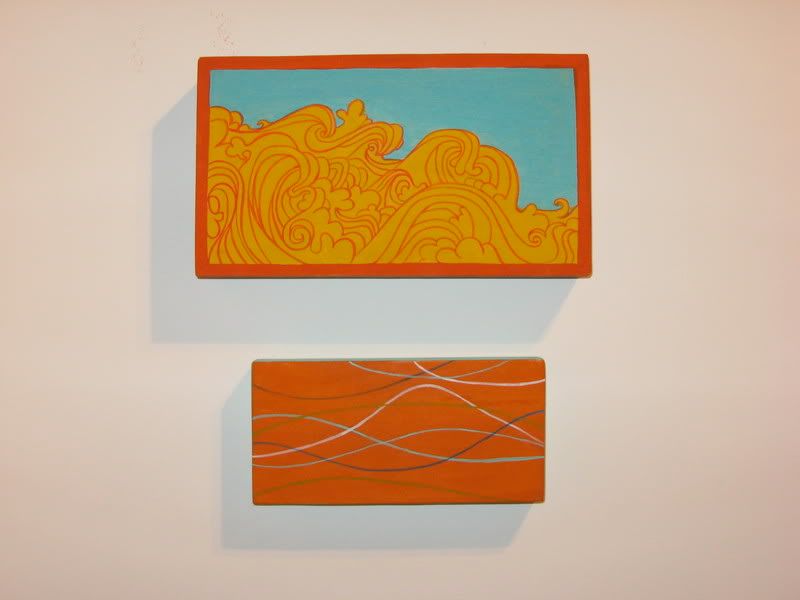 John McCambridge artwork inside the Mollusk mini-gallery

Good friend, Kevin Lewis from Stereo Skateboards came
to visit his new neighborhood surf shop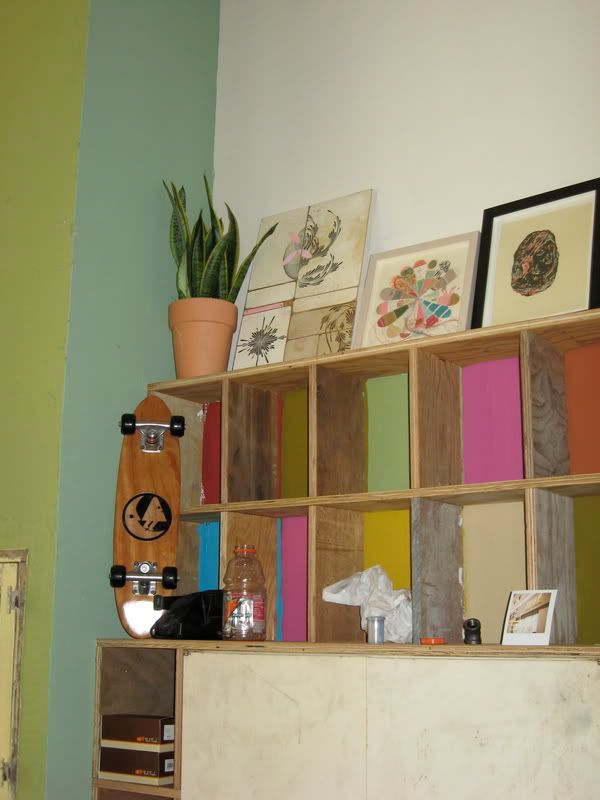 Solitary Arts Traveler complete skateboard on display.
The Traveler is a deadstock deck, with the
center routed and the Moon graphic sticker dropped-in,
Black Eggs (wheels) and Tracker 89mm mid-track trucks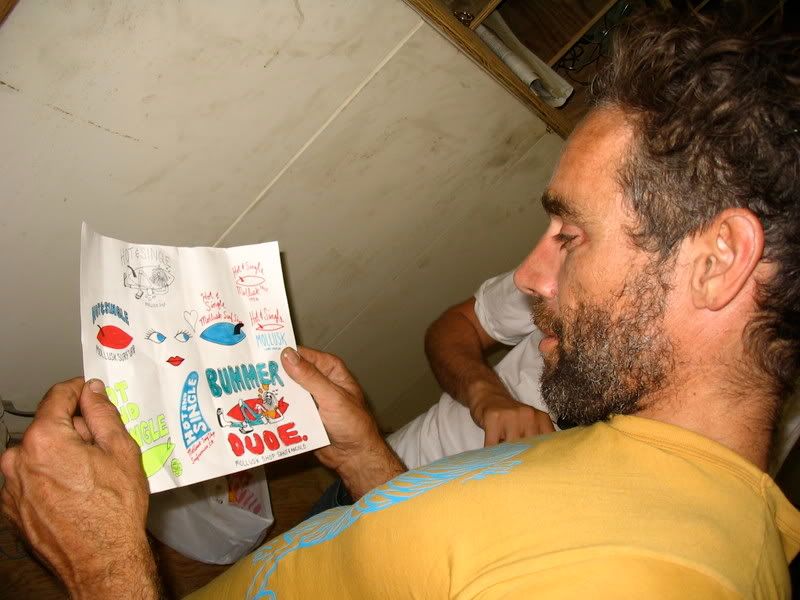 Keith is an amazing fine carpenter and built a large portion
of the shop. He scours scrap-yards within each city Mollusk
opens and reuses local materials to build the interiors.
Here, checking-out original artwork by Geoff McFetridge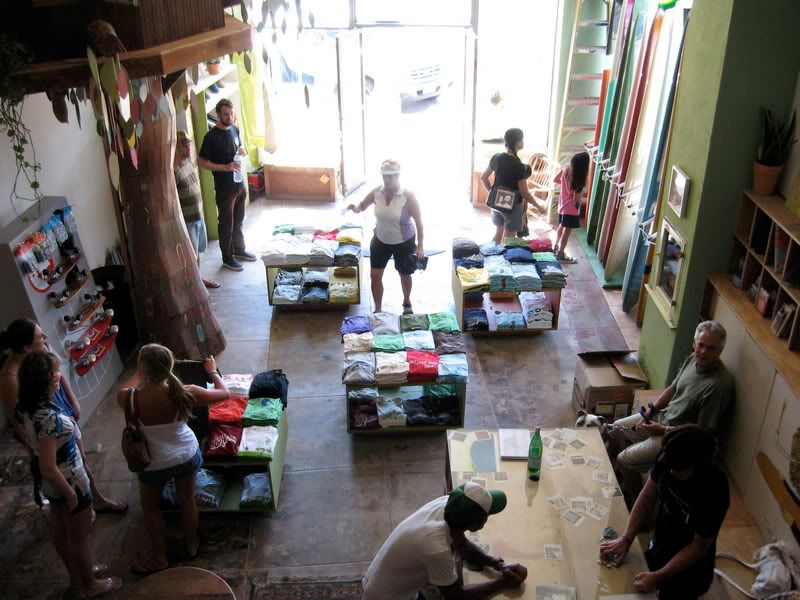 Thanks to everyone at Mollusk!

kenny forever
solitary arts
mini skate shop is open
jef hartsel

bob lake
ez ryder
is jef hartsel and jay adams



geoff mcfetridge
interviews yong-ki chang


our advertisements
in magazines


equal dist. is
yong-ki chang
in the bay area
champion don't stop
is geoff mcfetridge
in atwater village